Hiring Interns!!
DIGITAL MARKETING - MANAGEMENT TRAINEES
Type of Internship : Paid
About the Internship: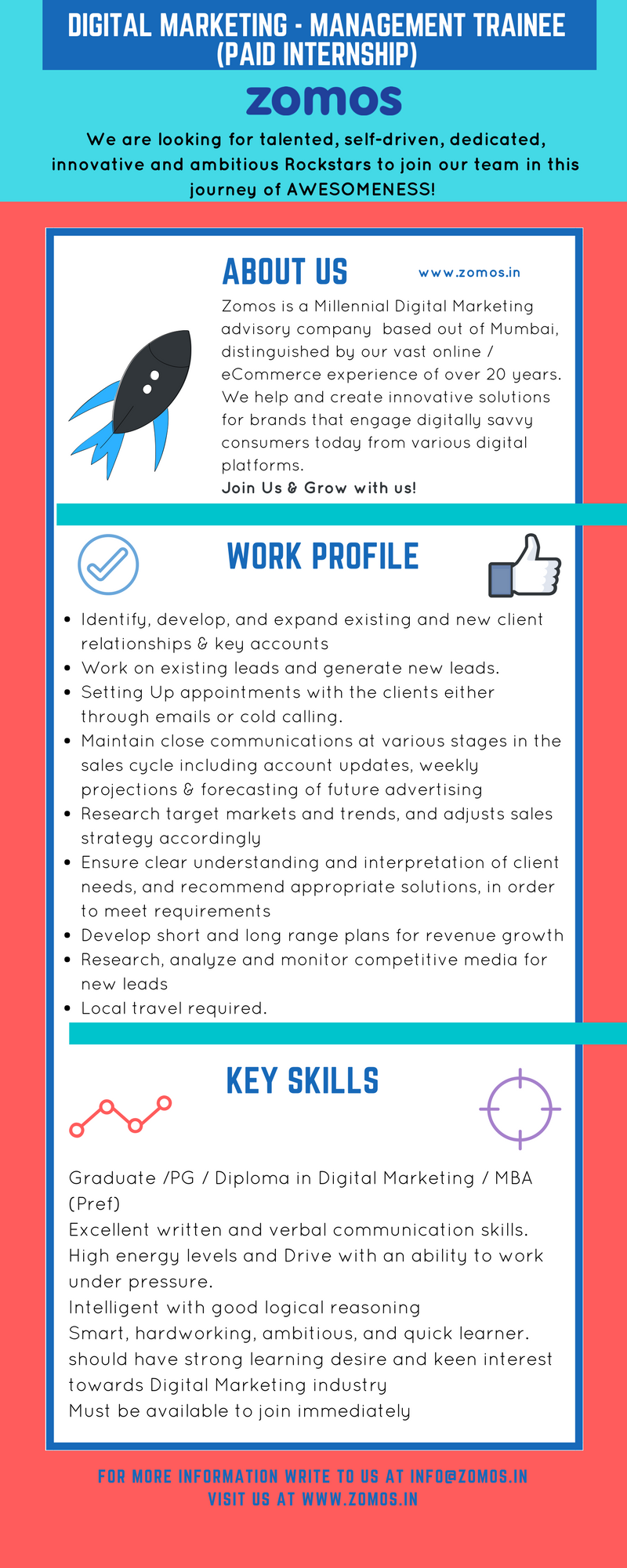 Skill(s) required: Social Media Marketing and Search Engine Marketing (SEM) and Search Engine Optimization (SEO)
Hiring Interns!!
Digital Marketing - Client Acquisition / Client Servicing
Type of Internship : Paid
About the Internship:
The selected intern(s) will work on following during the internship:
1.Identify, develop, and expand existing and new client relationships & key accounts
2.Work on existing leads and generate new leads.
3.Setting Up appointments with the clients either through emails or cold calling.
4.Maintain close communications at various stages in the sales cycle including account updates, weekly projections & forecasting of future advertising
5.Research target markets and trends, and adjusts sales strategy accordingly
1. Managing social media strategy for clients with various product campaign across digital platforms.
2. End-to- End execution of marketing projects and campaigns, including idealisation, creation of collateral, devising strategies to drive online traffic for the clients using SEO, SEM, .Real Time Bidding, PPC, Mail Marketing, Social Marketing, Display, Optimizing / Refining & Re-Targeting.
3. Responsible for managing client expectations on all aspects of digital marketing .Interact with clients on a daily basis
4.Understanding the Clients projects across different industry verticals, their target audience and the marketing requirements.
Perks:
Letter of recommendation,
Pre placement offer (PPO),
Who can apply:
Available for full time (in-office) internship.

Available for duration of 2 months (preferred, not mandatory).

Pursuing UG/PG degrees in MBA; BBA are currently in any year of study or are recent graduates.

Skill(s) required: Social Media Marketing and Search Engine Marketing (SEM) and Search Engine Optimization (SEO)